Aura Healing Level 2  – Practitioner Course  
Adelaide Hills – In Person Training

Over 2 Sundays: 29th May & 5th June 2022
Intuitive Wisdom Healing Rooms, Mount Pleasant.
Date: Over 2 Sundays – 29th May and the 5th June March 2022
Time: 10am to 4.30pm.
Venue: Intuitive Wisdom Healing Rooms, Mount Pleasant, on the border of the Adelaide Hills & Barossa Valley
Aura Healing Level 2 – Practitioner Training
The teaching of the level 2 component runs over 2 days where you will learn the intricacies of the Aura, which involves understanding how the Aura works and the way everything is connected, the types of blockages that can occur within the Aura, how to remove them and also how to bring the Aura back to its natural balance. 
During the second component you will learn:
The importance of trusting your intuitive gifts and reconfirming throughout the 2 days of the course how to trust what you feel, how to interpret what you are feeling and how this works within an Aura Healing. We also discuss what to do when you feel intuitively blocked, both in life and as a practitioner.
Reconfirming the structure of an Aura Healing.
How to empower your clients with energy knowledge such as how to protect themselves, how to do a basic self-cleanse and how to explain the Chakra knowledge that is relevant to their healing.
The ethics of working with another being on a soul level and how to provide a safe environment for your client
Understanding and Healing Blockages within our Aura's specific Physical, Mental, Emotional & Spiritual Bodies and corresponding Aura Layers. This includes how and when to tune into the individual Aura Layers.
Definition of different types of deeper blockages that may appear in someone's aura and how to remove them.
Understanding healing methods and concepts such as Psychic Surgery, Cord Cutting, Removing Spirit Attachments, Balancing vibrational shifts, and so much more.
Working with the Spirit realm — Both gaining an understanding and how to work with various spiritual guides, angels, ancestors and the divine (source) that either may appear during a healing or how to call upon them when you need extra help.
Understanding the power of holding space and knowing what it means to be the facilitator of the healing as the true healing occurs from within the client themselves.
The Business Basics: Information to know when starting your own Aura Healing business.
And finally know that you can do a full Aura Healing in confidence, including protection, scanning, clearing, balancing and reading the Aura.
This is an intensive course that combines teaching, discussion and hands on training where you learn and feel your way through the Aura. You will learn to trust your inner guidance and discover the energy channeling abilities that we all have within us.
Note: After the completion of this course, you will need to complete a log book of 5 healings in order to receive your certificate.
Aura Healing is a certificate course that was developed by Sarah from her 20 years experience of working as a Reiki Master and Aura Energy Practitioner.
It is an accredited with International Institute of Complimentary Therapists. 
The Cost of the course: $320, with a $120 deposit being required to secure your place.
To place a booking, ask questions or for more information then please contact Sarah at sarah@intuitivewisdom.com.au 
Beginning the Aura- Healing Practitioner training with Sarah was very exciting, because although I already had a basic understanding of the aura and the chakras, this took me deeper into a whole new realm of knowledge. The information that Sarah presented in Level 1 was detailed, clear and well-structured, and the lectures were supported by comprehensive notes. There is a wealth of knowledge in the notes, collected from Sarah's extensive experience. In addition Sarah led us through marvellous meditations and visualizations which were alive with colour and image, and worked deeply to balance and align our energy systems. The notes were supplemented with well-written Energy Exercises to practice on a daily basis for self-healing and self-awareness.
Level 2 was hands-on, actually experiencing all that we had learnt about in Level 1, by exploring the aura and chakras of our fellow students. Many extraordinary things were discovered through this subtle body sensing – imbalances, blocks, old wounds from past and present lives, and much more. Throughout this exploration, Sarah was always present, guiding and helping us to discover the intricacies of our subtle bodies, and how to balance and restore harmony, to remove blocks and to bring healing. Throughout the two Levels, she was always available for questions and guidance, and her encouragement to trust our own intuition in being able to receive messages and guidance from both our own guides and higher selves, as well as from the client's, was extremely helpful. 
Doing this training has been an enrichment of my knowledge-base and a marvellous healing experience in itself. I can highly recommend Sarah to anyone who wishes to work in this area, or just to practice healing for themselves.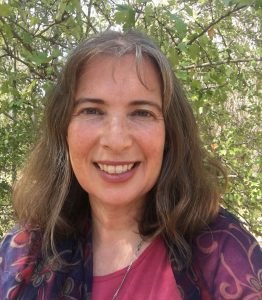 Your Aura Healing Facilitator
Your facilitator for these workshops is Sarah Stutley who has had over 20 years of experience working as a Reiki and Aura Energy Healing Practitioner. Sarah had developed Aura Healing over her many years of being an energy healing practitioner and has gained accreditation for the Aura Healing Courses through IICT.
Sarah is also a practitioner of Meditation, Colour & Crystal Therapy and Reiki.  She is also a Reiki Master which compliments Aura Healing beautifully. 
For future Aura Healing course venues and dates then please sign up to my newsletter on the link below